Study protocol

Open Access
Prophylactic salpingo-oophorectomy & surgical menopause for inherited risks of cancer: the need to identify biomarkers to assess the theoretical risk of premature coronary artery disease
Women's Midlife Health
2018
4:7
Received: 20 September 2017
Accepted: 4 April 2018
Published: 27 April 2018
Abstract
Background
Some women with genetic risk of breast and/or ovarian cancer (e.g., BRCA1/2) opt to undergo prophylactic salpingo-oophorectomy (PSO, or surgical removal of the ovaries & fallopian tubes) in order to reduce their risk of cancer. As a consequence, these women experience "surgical menopause" – accompanied by more severe climacteric symptoms that occur in a much shorter time frame. While the risk of coronary artery disease (CAD) rises with menopause, little is known about how the sudden loss of ovarian function from PSO alters the whole-body physiology, and whether it predisposes women to premature CAD.
Methods/Design
To manage CAD risk there is a prerequisite for reliable biomarkers that can help guide risk assessment and therapeutic interventions. To address these needs, this prospective, observational cohort study will evaluate surrogate markers reflective of CAD health in women experiencing surgical menopause after PSO. Twenty women representing each of the following groups will be enrolled over 3 years (total participants = 240): (i) pre-menopausal PSO, (ii) post-menopausal PSO, (iii) pre-menopausal women undergoing other pelvic surgery, and (iv) pre-menopausal controls (no surgery). All participants will provide blood plasma samples pre- and 1, 3, 6, & 12 months post-operatively, with serial samples collectively assessed for measurements of the study's primary endpoints of interest. These include a hormone profile (estradiol, follicle stimulating hormone (FSH), luteinizing hormone (LH), and progesterone) and both conventional (lipid profile) and novel biomarkers (Heat Shock Protein 27 (HSP27), HSP27-antibodies (HSP27 Ab), proprotein convertase subtilisin/kexin 9 (PCSK9), inflammatory cytokines) of CAD. Another aspect of this study is the measurement and analysis of retinal vessel diameters – an emerging physiological parameter reflective of CAD risk. Finally, a patient engagement exercise will result in the drafting of patient-generated questionnaires that address the well-being and health concerns of these women as they transition through premature menopause and work with our research team to identify and discuss their health priorities.
Discussion
The protocol of our planned study investigating the effects of PSO on CAD is described herein. Characterization of novel CAD markers in women experiencing surgical menopause will yield new insights into the role of the functional ovary in modulating lipid parameters and other CAD risk factors such as HSP27 and HSP27 Ab.
Keywords
Atherosclerosis
Cardiovascular disease
Cardiovascular risk factors
Coronary artery disease
Estrogen
Heat shock protein 27
HSP27
Inflammatory cytokines
Menopause
PCSK9
Prophylactic salpingo-oophorectomy
Retinal vessel analysis
Surgical menopause
Background
It is widely recognized that pre-menopausal women are relatively protected from cardiovascular disease (CVD), including the manifestations of (i) coronary artery diseases (CAD, e.g., angina & heart attacks), and (ii) stroke. However, this advantage is lost after menopause [1–3]. In fact, one-third of all deaths in post-menopausal women are due to CAD [4], with a higher risk and overall mortality in women who experience premature or early-onset menopause [5]. As more women worldwide with hereditary breast and ovarian cancer mutations consider surgical removal of their ovaries and fallopian tubes ("prophylactic salpingo-oophorectomy", PSO) to reduce their cancer risk, it is increasingly important to highlight the potential cardiovascular risks that accompany such an intervention and the ensuing premature, "surgical" menopause. The aim of this study will thus be to investigate whether PSO leads to increased cardiovascular risk as assessed by the measurement of conventional and novel surrogate markers for CAD. The rationale and methodology is thereby presented herein as a study protocol manuscript.
Methods / design
Study design
This is a single-center, prospective, cross-sectional study which addresses whether women undergoing PSO develop features of cardiovascular disease as assessed by conventional (e.g., cholesterol) and novel biomarkers, including HSP27. Candidates for surgery will be introduced to the study by medical genetics counselors and gynecologists specializing in minimally invasive PSO (University of Calgary's affiliated hospitals, Calgary, Alberta). Patients who decide to undergo surgery and are interested in participating in this study are then scheduled for a cardiac consultation with EOB (University of Calgary). To determine if the sudden drop in estrogen following PSO leads to increases in cardiovascular disease markers, the study population will involve women representing the following four different treatment groups:
1)

Pre-menopausal women undergoing PSO. This patient group is predicted to develop the most obvious changes in cardiovascular disease markers, as previously indicated by increases in total cholesterol and LDL levels [59, 60] – this is most likely attributed to the abrupt loss in estrogen after surgical removal of functional ovaries.

2)

Post-menopausal women undergoing PSO. Comparison with this group of women will address whether the surgical removal of ovaries alone (which are non-cycling), and not the sudden drop in estrogen per se, contributes to increases in cardiovascular disease markers.

3)

Pre-menopausal women experiencing other pelvic surgeries that spare both ovaries and fallopian tubes (e.g., hysterectomy, salpingectomy). This "surgical control" group is included to eliminate the possibility that surgical interventions in the pelvic region affect levels of cardiovascular disease markers over time.

4)

Pre-menopausal women, no surgery. It is expected that women in this non-surgical, pre-menopausal control group will not exhibit remarkable changes in cardiovascular disease markers during the study's time frame, and as such, will be used to compare with both groups of pre-menopausal women having undergone surgery (PSO or other pelvic surgery).
Patients with pre-existing malignancy or who have experienced a myocardial infarction event in the year prior to their surgery will be excluded from the study since these populations exhibit elevated HSP27 serum levels [63, 87–90]. Once patients decide to enroll in the study and provide signed informed consent, they will undergo a standardized cardiac consultation that includes a detailed personal health history (e.g., medication use, incidence of hypertension, diabetes mellitus, and prior cardiovascular events), cardiovascular physical examination and an ECG. Patients will then be asked to give blood and urine samples before and at various times after surgery (University of Calgary). Retinal images will also be captured before and after surgery (Calgary Retina Consultants). The time commitment required for participation in this study is 1 year (following surgery), with an option to extend participation for an additional year.
Participant recruitment
Depending on family history and outcome of genetic testing, women that are positive for mutations in BRCA1/2 or Lynch syndrome associated-genes (e.g., HNPCC) may be referred by the University of Calgary's team of genetic counselors for an information sharing consultation with gynecologists who specialize in minimally invasive PSO. During the medical genetics consultation, patients will be given a cursory introduction to this study via dissemination of an information pamphlet. After discussing with their gynecologist, who will further elaborate on the details of this study, patients who decide to undergo PSO and are interested in participating will then be scheduled for an appointment with a cardiologist (EOB). Post-menopausal women considering PSO and pre-menopausal women undergoing other pelvic surgeries will be introduced to the study by the same team of medical genetics counsellors and gynecologists, while non-surgical control participants will be enrolled through the use of recruitment flyers posted at the University of Calgary and its affiliated hospitals. Active patient enrollment for this study will take place over 3 years. Recruitment targets for each of the four patient treatment groups are 20 per year, totalling 240 participants for the duration of the study.
Data collection
Cardiac consultations will take place before and at 6- and 12-months after surgery, during which patients will be given an ECG and monitored for incident hypertension, diabetes mellitus, and cardiovascular events (e.g., myocardial infarction, stroke). Fasting blood and urine samples will be collected before surgery (PSO or other pelvic) and at 1, 3, 6, and 12 months after surgery. In addition to routine blood tests (glucose, hemoglobin A1c), Calgary Lab Services will conduct the following analyses: lipid profile (total cholesterol, HDL, LDL, triglycerides) and a female endocrine panel (estradiol, progesterone, FSH, LH). Our research laboratory will separately analyze blood samples at these time points for assessment of novel cardiovascular biomarkers. Plasma will be extracted from blood samples, aliquoted, and stored at -80 °C for future testing (e.g., enzyme-linked immunosorbent assays for HSP27, HSP27 antibodies, PCSK9, as well as inflammatory cytokine arrays [performed by EVE Technologies on campus]). Urine samples will also be stored at -80 °C for future isolation of microparticles and exosomes (ultracentrifugation) and detection of HSP27 and PCSK9 (Western blot and mass spectrometry). Retinal images will be captured by digital photography before and at 6 and 12 months after surgery by a high-volume retinal referral clinic (Calgary Retina Consultants) and images will be securely transferred to the University of Wisconsin Retina Core lab for analysis (Drs. Ron and Barbara Klein). In addition to the above data collection time points, patients will be given the option of extending their participation for an additional year, which will involve cardiac consultations, blood draws, and retinal imaging at 18- and 24-months post-surgery.
To complement this work, our collaborator, Dr. Denise Nebgen (MD Anderson, Houston; Women choosIng Surgical Prevention "WISP" trial [ClinicalTrials.gov Identifier: NCT02760849] researcher) will also provide plasma samples before and after PSO in their cohorts diagnosed with BRCA- or Lynch syndrome-associated mutations (~ 35 WISP participants).
Outcomes
The primary outcome is a change in levels of HSP27 following PSO. Plasma HSP27 will be measured using ELISA methods before and 1, 3, 6, and 12 months following surgery. Since previous findings have shown that higher HSP27 serum levels correlate with cardiovascular health [66], it is likely that women experiencing premature menopause after PSO will experience a worsening of their cardiovascular health (as measured by total cholesterol and LDL) and consequently, lower levels of HSP27. HSP27 localized to microparticles isolated from plasma and urine will also be measured using Western blotting and mass spectrometry. Additional primary outcomes assessed at the same time points and analyzed by ELISA are: HSP27 natural antibodies, which appear to be elevated in healthy controls compared to coronary artery disease patients, and PCSK9, which itself may be regulated by HSP27 (unpublished data). Secondary outcome variables are lipids (total cholesterol, triglycerides, HDL, LDL), ovarian hormones (estradiol, FSH, LH, progesterone), cytokines, and retinal vessel (arteriole and venule) diameters. Abnormally high lipid levels and/or severe post-menopausal symptoms following PSO may necessitate alterations in management and treatment by attending physicians.
Sample size calculation
To date, there are no prospective studies investigating HSP27, HSP27 Ab, and PCSK9 levels in women following PSO and the ensuing premature, surgical menopause. To estimate the necessary sample size, we assumed an effect size of 0.3, Type 1 error rate α = 0.05, and desired power = 0.90. Based on our conservative assumptions, a minimal sample size of at least 160 participants (40 per group) is needed for the study. Assuming 10% attrition rate over the course of the study, a minimum of 178 participants will be required (which is well below our recruitment target of 240). Once there is sufficient enrollment (n = 6 / group), effect size will be recalculated based on pilot data (again presuming α = 0.05 and power = 0.90) and the sample size adjusted accordingly as the study continues.
Statistical analyses
Data analysis will be performed using Statistical Analysis System (SAS) software. Probability (p) of less than 0.05 will be considered significant. Experimental outcomes for continuous variables will be expressed as means ± standard deviation for each time point and the variance between the groups will be analyzed using ANOVA. Categorical variables will be compared with a chi-square test. In order to examine the relationship between variables, regression analysis will be performed. If more than one predictor variable is found to affect the outcome, multivariate regression will be employed to identify significant associations.
Patient engagement activities
In addition to identifying biological markers associated with cardiovascular dysfunction in women experiencing surgical menopause, we are also interested in understanding how shifts in gender perception (which includes subjective measurements of stressful experiences) can heighten CAD risk. The idea that gender (a construct distinct from "sex" that encompasses social perceptions and expectations regarding the roles of men and women) can shape the clinical outcome of CVD patients is illustrated by a recent study using the GENESYS Gender Index [
91
,
92
], suggesting that a feminine gender score, but not female sex, was associated with heart disease risk factors. We thus hope to identify how surgical menopause influences the subjective health perceptions, feelings, and lifestyle changes of women after PSO, and if these can affect their vascular health. Together with a focus group of women in Calgary that have undergone PSO, we will co-create questionnaires exploring changes in perceptions of the patient experience (Fig.
2
). We will also plan a research forum open to the general public that will address the health concerns most relevant to PSO patients.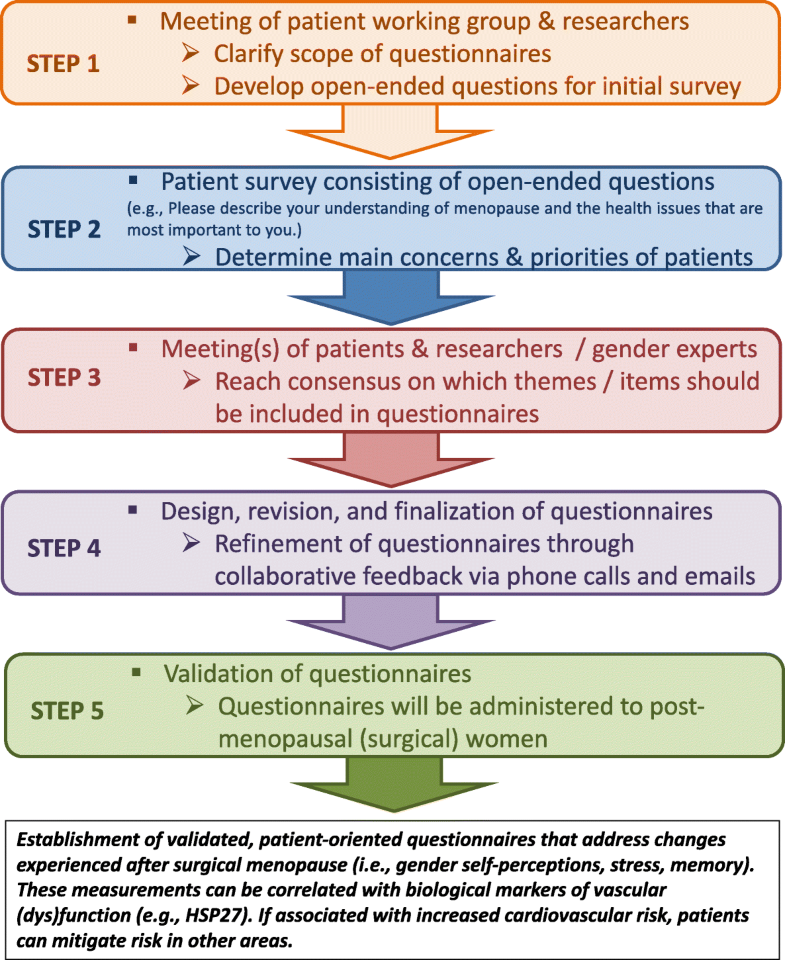 Study limitations
We recognize the importance of incorporating a Quality of Life (QOL) assessment that collects data on diet, exercise, and other lifestyle measures. Although there is no formal component in the pilot phase of this study, we plan to include this in the future. Additionally, one of the patient engagement working group's goals is to generate questionnaires together with our research team that directly reflect the patient experience following PSO – these will contain questions on self-reports of lifestyle changes. We also acknowledge that sample size in this study is small; however, it can provide the basis for future, larger studies involving multiple centres.
Discussion
Women with hereditary cancer mutations increasingly elect to undergo PSO as a risk-reducing treatment option, but it is important to be aware of potential ensuing cardiovascular health consequences. As the association of cancer risk with a particular mutation is not fully characterized, the advantages and disadvantages of PSO must be carefully weighed. Besides increased risks of cardiovascular disease and cognitive dysfunction, there are also other associated morbidities that are elevated after PSO, and adjustments to changes in lifestyle (e.g., sexual performance [93]) and in gender self-perceptions are additional issues that should not be ignored.
The "biological arm" of this study will determine how the abrupt loss of estrogen after PSO influences levels of established (e.g., lipids) and novel biomarkers (e.g., HSP27, retinal vessel diameters) in pre-menopausal women. We predict that after surgery, the sudden drop in estrogen will lead to gradual increases in LDL and PCSK9, with concomitant decreases in HSP27 and HSP27 Ab, making these women more susceptible to cardiovascular disease risk (Fig.
3
). Results from this pilot work will inform future studies involving larger patient populations, with the long-term goal of using these markers as predictors of cardiovascular health in susceptible populations. Ongoing in vivo studies in our laboratory using an atheroprone murine model suggest that ovariectomy leads to an exacerbation of atherogenesis and that HSP25 (the murine orthologue of HSP27) can substantially reduce the development of aortic atherosclerosis. Hence, HSP27 may serve not only as a marker for cardiovascular disease but possibly as a novel therapeutic in post-menopausal women.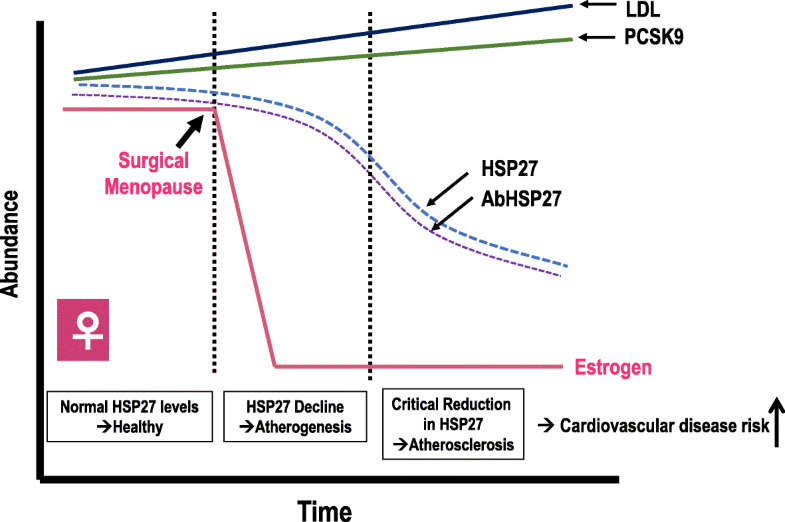 Abbreviations
BRCA1/2:

Breast cancer susceptibility gene 1/2
CAD:

Coronary artery disease
CVD:

Cardiovascular disease
HSP27 Ab:

HSP27 antibodies
HSP27:

Heat shock protein 27
MHT:

Post-menopausal hormone therapy
NO:

Nitric oxide
PCSK9:

Proprotein convertase subtilisin/kexin type 9
PSO:

Prophylactic salpingo-oophorectomy
WISP:

Women choosing surgical prevention trial
Declarations
Acknowledgements
We are indebted to our many collaborators who have provided critical comments and helped with the design of these studies. We would also like to thank Ms. Zhiying (Jane) Liang (Mozell Family Analysis Core Laboratory, University of Calgary) for invaluable biostatistics support, and Mr. Matthew Clarkson, Dr. Jingti Deng, and Ms. Catherine Diao (O'Brien Lab, University of Calgary) for helpful discussions and technical support.
Funding
This research is supported by a Canadian Institutes of Health Research (CIHR) bridge funding grant (PJT-149015), a CIHR-sponsored Strategy for Patient-Oriented Research (SPOR) Collaboration grant (PEG-151774), and seed funding from CIHR's Canadian Vascular Network (CVN).
Availability of data and materials
As described in our ethics application, restrictions apply to the availability of the data presented here. We can present de-identified data in manuscripts and presentations, but de-identified raw data can be made available upon reasonable request and with permission from the University of Calgary's REB.
Authors' contributions
All authors contributed to literature review, writing, and figure presentation of the manuscript. EOB and ZB were involved in the design of the study. All authors edited and approved the manuscript.
Ethics approval and consent to participate
This research has obtained ethics approval at the University of Calgary (REB14–2335) and consent from participating PSO women and controls.
Competing interests
The authors declare that they have no competing interests.
Publisher's Note
Springer Nature remains neutral with regard to jurisdictional claims in published maps and institutional affiliations.
Open AccessThis article is distributed under the terms of the Creative Commons Attribution 4.0 International License (http://creativecommons.org/licenses/by/4.0/), which permits unrestricted use, distribution, and reproduction in any medium, provided you give appropriate credit to the original author(s) and the source, provide a link to the Creative Commons license, and indicate if changes were made. The Creative Commons Public Domain Dedication waiver (http://creativecommons.org/publicdomain/zero/1.0/) applies to the data made available in this article, unless otherwise stated.
Authors' Affiliations
(1)
Department of Cardiac Sciences, Libin Cardiovascular Institute of Alberta, University of Calgary, Health Research Innovation Centre, Calgary, Canada
(2)
Department of Cardiac Sciences, Libin Cardiovascular Institute of Alberta, Health Research Innovation Centre, Calgary, Canada